Right, let's talk TITS. "Boobs" and "breasts" sound too formal, kind of like we're at M&S having a measurement by Suzie, the local mum. Tits on the otherhand sounds more fun and that's exactly what we want.
I want this lil post to help you acknowledge that boobs make the BEST decor pieces in your home, and you can also find booby-related gifts here!
First things first, please check your own tits regularly. Not sure how to check? click here (of course after you've read this, can't run off that easily!)
Secondly, the female form is STUNNING, right? And it has become 'trendy' to embrace tit-culture and accepting the female anatomy. Women's bits and bobs are often overly sexualised so, many women feel awkward to rock decor of naked women.
The Greeks didn't have this awkwardness, they didn't have this over sexualsation or the whole 'you can't breast feed in public' because 'breasts are for sex' and sex only. This is your sign to embrace your inner Greek God/Goddess or being.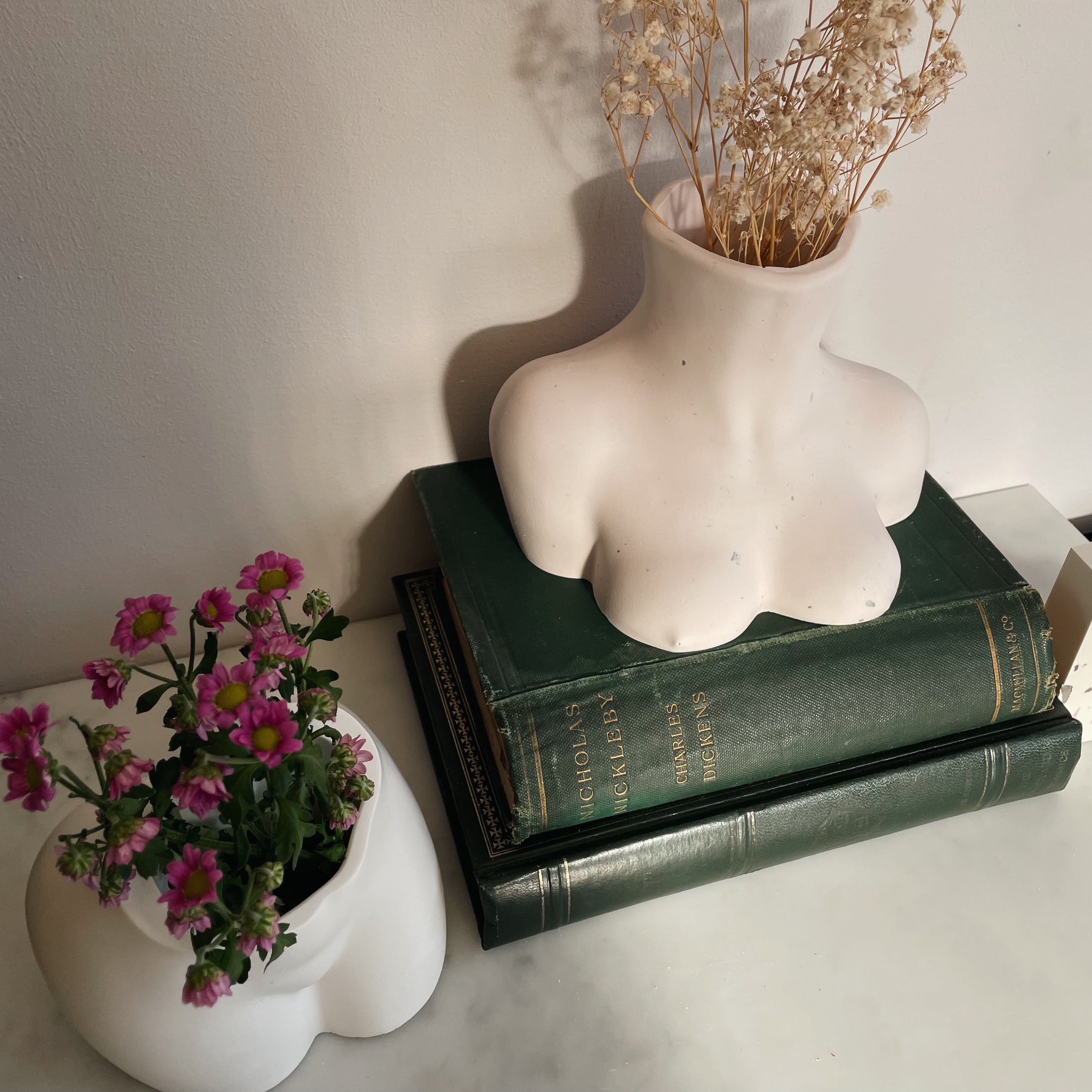 Bringing in the breasts.
Bringing home boobs that don't belong to you can be dawnting for some of us. Up until I started making tit-related ornaments I wouldn't have even considered walzting through the door and shoving a titted vase into my mum's eyeline. Now however, my life is full of tits. My own tits, my sister, and the ladies I craft for Adrestia's Revolt. It might not be your time yet, but if it is your time to bring home a tit vase, here's your chance.
TIT FACT: DID YOU KNOW THE LEFT TIT IS USUALLY BIGGER?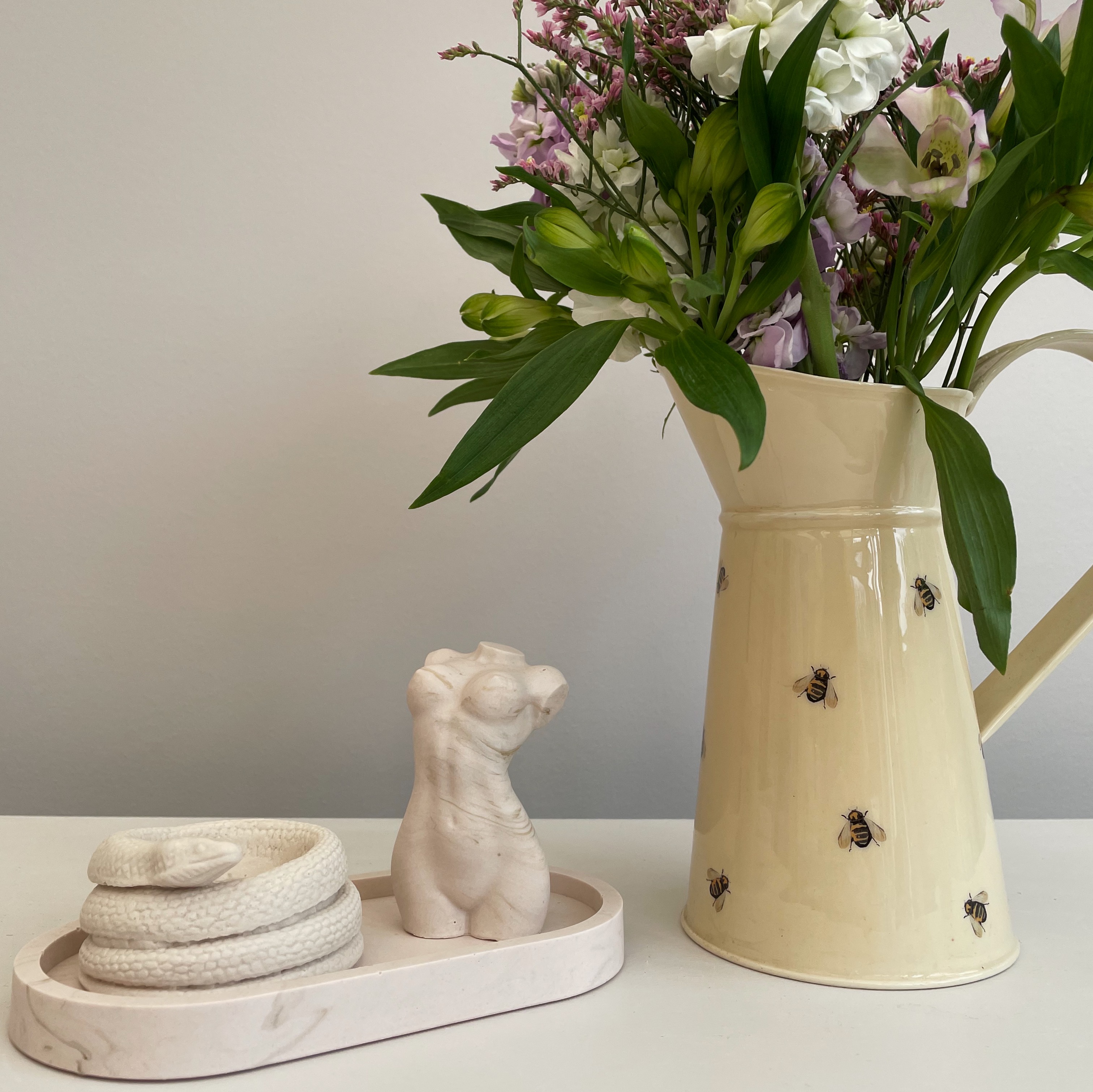 It doesn't need to be 'go big or go home'.
Just because I am encouraging you to embrace the naked body of women, it doesn't mean I am saying go paint a fuck-off big mural of your bestie's boobs on the side of the local Co-Op. Start small, something meaningful.
If you're nervous to accept yourself and the way you look, shop lowkey (see beside). Perfectly Imperfect Goddesses are teeny reminders of your blessings. You are bloody amazing. Each goddess is unique and handcrafted for you personally.
Treat yourself
TIT FACT: MEN CAN GET BREAST CANCER TOO. CHECK UP ON YOUR MANS.
Accepting yourself as a woman can be so challenging. It's not as easy as the media portrays; the stomach cramps, bleeding down your leg in public, getting your sanitary towel stuck to your pubes, getting your tit jabbed on the tube, getting your hair stuck in your butt crack after a shower. The daily quarrels nobody talks about.
Am I right, ladies?
Despising my body has been a ritual for years (see here), reading feminist literature and watching TED talks never even budged my opinion of my body. What did change my mind was actually decor and interior design. It is so important to surround your home and environment with reminders of your worth.
People dismiss interior styling too quickly and those people are constantly unhappy because they've got a fucking butters house and boring walls.
Top tip to loving yourself and being happy: good decor and art.
It's 2022, it is time to fill your home with naked lady ornaments to remind yourself it is okay to be imperfect, have flaws, say the wrong thing or have wonky edges. It's even more rewarding when the lady on your window ledge is handmade from a small business, not the Primark clones that are trending.
Share your story and products with Studio 23 Magazine!
TITS YOU NEED IN YOUR LIFE
(click what you love and you'll be taken to the store's page!)
- EMPOWERMENT -
LISA
I never felt ok in my own body until I got one of those perfectly imperfect goddesses.
HARRI
I was so shy and 'prude'. I come from a conservative family and they hate my nipple paintings. LOL.
If this post so much as made you smirk or features your products please give it a share to your pals! Let's all help each other's small businesses! Feel free to comment your business below!
Lots of love, G xx